The second online training session for the SAK 21 squad took place on a sunny Saturday 13th June. Vice Captain Phil Chapman-Sheath reports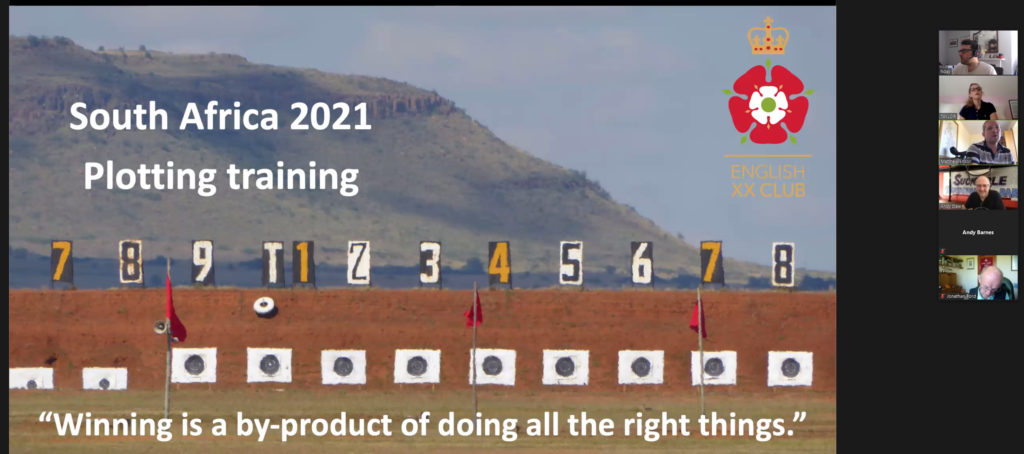 We 'met' in significantly varying wind conditions – fortunately online via the Zoom app from all corners of the country for an excellent session hosted and run once again by Matty Ensor. Matty has run many of these online training sessions before and we were delighted that he was able to offer his services once again for the benefit of the England Team.
After an introduction to the session and team briefing from our Captain Turbo, emphasizing the great importance of establishing an accurate and reproducible team plotting technique to optimize our team performance under match conditions – we started the 90 minute session with an hour long presentation from Matty covering aspects of pre-match target team preparation including practice plotting and the sharing of best-practice techniques and ideas, pre-match individual preparation and the 'science and philosophy' of accurate and speedy plotting during the actual shoot. Matty gave us many helpful and highly useful tips and tricks to ensure that we all gained vastly from the experience.
Matty discussed the basics of plotting and what was 'required' of a plotter at this level, in terms of a 'basic or bronze' requirement … right the way through to the 'gold standard' which our Captain hopes we will all achieve by the time we tour.
We then focused our scopes, sharpened our pencils ( after having filled in all the data fields on the plot!) and concentrated our minds on the next 30 minutes of 'live' plotting during a simulated shoot – the speed of which, we subsequently learned, certainly surprised a few sleepy individuals including myself!
Post plotting exercise analysis and discussion between team members and our teacher raised many valuable teaching points and emphasised the difficulty in plotting the shoot with both high accuracy shot position, speed of both elevation ( and wind) graph production, predicting elevation change calls required and recording the score whilst letting the next shooter start their final shooting preparation and liasing clearly and consisely with the virtual register keeper.
Thanks go to Matty Ensor once again for his time and considerable efforts – which I have no doubt will help all of us in the England Team, by the 'aggregation of marginal gains' to succeed in the forthcoming team matches in both South Africa and Kenya in 2021.
Training in Lockdown: Plotting Training