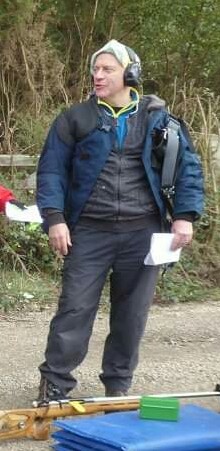 Rick started shooting, aged 14, with the Sea Cadets. He was christened with both the Lee Enfield .303 and the Henry Martini .22. Competing in his first ISCRM at Bisley in 1981 he moved on to coaching cadet teams until a chance encounter, with an old cadet adversary (who happens to be his Adj for this tour), meant he joined Altcar RC and entered his first Imperial in 2009. Rick has worked his way through to become a regular squad member for Lancashire at both Full and Small bore and owes his development to the support and guidance from his peers at both Altcar and Salford RC. He continues in the service of the Sea Cadets and has a national role as lead for target shooting for development of cadets and coaches alike.
Married to Sue, a fellow shooter, they are parents to John (15) who is cutting his teeth at the sport, and Lucy (7) who thinks she should be shooting already! Rick is about to retire after 32 years of policing the streets of Greater Manchester. After constantly being asked by his team "What exactly do you do?" he is going to miss the banter and the abuse, but not the shifts!
Having had the pleasure of his first touring experience to the Channel Islands in 2019, under the captaincy of Stuart Young, he is now looking forward to the opportunity of making new friends and is honoured to be touring as a member of the England Team to South Africa and Kenya.