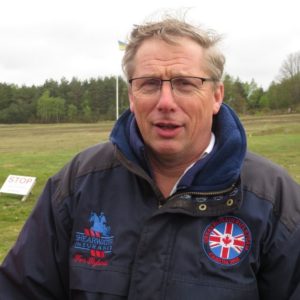 Tom Rylands is the Captain for the England Tour Team going to Canada 2019. For his management team, Tom has selected Andrew Lothian (Vice Captain) and Stephen Penrose (Adjutant) to assist him in having an excellent tour. In order to prevent Tom being over-worked like during the Imperial, a couple of members of the Team (Dave Rose) have volunteered to be Tom's personal "body guards" in order to prevent anyone – including the Captain himself – from labouring him with rifle work.
Below is a personal reflection by Tom, on how he got into shooting.
---
In the Blood
I am often asked how I got into shooting and it prompted me into a little research!
There are many routes into shooting – through school, cadets, university, local clubs – however it seems that, for full-bore shooting at least, family links are equally important and a significant factor in getting started.
Looking back through NRA history, we find the very first Queen's Prize winner, Edward Ross, a Cambridge undergraduate, was indeed a member of a distinguished shooting family which at one point provided half the Scottish Elcho team.
Another notable name comes to mind – 3 generations of Fulton's winning the Sovereign's Prize.
In the modern era, many familiar names appear as father/son, father/daughter or mother/daughter combinations – Du Toit, Hossack, Kent, Le Cheminant, Lothian, Luckman, Mallett, Messer, Moeller, Oliver-Bellassis, Payne, Penrose, Pugsley, Richards and many many more. Previous team brochures featured a tribute to Cliff Mallett and how interesting to find that his son Colin is the fourth generation in a family seemingly embedded into Jersey Target rifle shooting. It is no surprise to find the 'Families' competition during the Imperial, so well supported!
There is a theme of success too! Fulton, Hossack, Jeens, Luckman, Pugsley, Richards, Ross – all have Sovereign's prize winners among the family: Fulton, Luckman, Messer, Pugsley – grand aggregate winners and there are international representations too numerous to mention.
We are the lucky ones, where support and encouragement has been close to hand, provision of equipment, transport to shoots and so on.
So – how did you get into shooting? Do you know of any family links? How far back can you trace your shooting ancestry or are you the first? I was amazed to find out how many shooting links I have been able to find, some which I have only discovered in the last 2 years even though I have been shooting for nearly 40!
I started full bore shooting relatively late, at university, and it wasn't until my first Bisley that I discovered I wasn't the first in my family by any means!
I knew my Father had shot in his school VIII along with a cousin back in the 1930's and had competed in the Ashburton. What I didn't know was that my maternal grandfather and some of his siblings had also shot, one of them as far back as 1896!
My mother just happened to say, 'Oh yes, your grandfather shot at Bisley and won a medal' -further investigation revealed he was a member of the Winchester school VIII in 1904 and was last man down at the final range – not knowing that he had to get a bull with his last shot for Winchester to beat Clifton – that medal? A winning Ashburton medal!
I later learnt that another branch of my mother's family had been associated with Bisley for many years and that there was an Olympic silver medal in the family from 1908 (now in the NRA Museum) – the last time full-bore featured in the Olympics. Arthur Bates, my cousin, was Adjutant for that GB Team.
Some years ago, we organised a family reunion at Bisley for all branches of the family connected with shooting – it was my father's first visit to Bisley for 50 years (he said it hadn't changed a bit!!) and with 3 family members in current school VIII's and 4 shooting in the PS Veterans, we numbered 10 across 3 generations!
One of my proudest shooting moments to date was the Australia Match in 2010; I was brought in as the reserve to replace David Calvert – he had won the Queen's for the first time the day before and had been given a choice – have an early night and shoot or…..!
100 years earlier in 1910, Arthur Bates was Adjutant for GB for the same match (then the Empire Match) – the photographs of the two teams sit side by side in the North London Clubhouse.