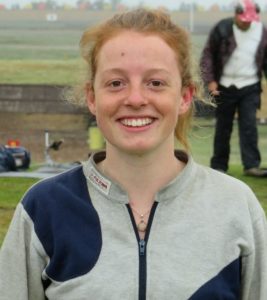 Katherine Fleck
Katherine Fleck started shooting at Sedbergh School, under the expert tuition of David Nuthall. She was captain of her school team for 2 years and travelled to Jersey with the UK Cadet Rifle Team in 2015. Katherine was selected as reserve for the British Cadet Rifle Team in 2016 and is therefore looking forward to touring Canada, having missed out in 2016.
Now studying Veterinary Medicine at Cambridge, she is the incoming captain of CURA. Katherine is also a keen sailor and was the Laser 3000 U18 national champion. When not shooting or studying, she can also be found on walks with identical twin Nicola and vizla Lily.
Katherine is very excited about her visit to Quebec and Connaught on her first senior tour.