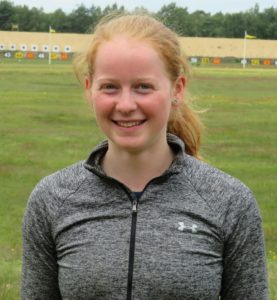 Jemima Hince
Jemima began shooting in 2016 at Wellington College under the supervision of Nigel Ball and for the past year and a half has captained the team.
This will be Jemima's fourth tour, having been to Jersey with UKCRT, South Africa with GB U19, and most recently Canada with the Athelings. Whilst out in Canada, Jemima was lucky enough to win the National Cadet Fullbore Championships and be selected to represent GB U25 in the America Match.
When at Bisley, Jemima represents the North London Rifle Club, County of London and Wellington College.
Jemima has just completed her A Levels in Maths, Chemistry and Computer Science, and hopes to go to Exeter University in 2020 to study Mechanical Engineering.