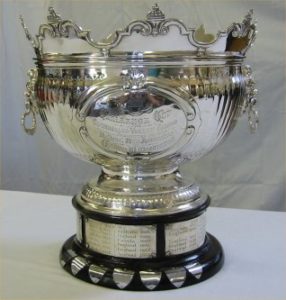 Without doubt, the hardest-won badge in English international team shooting is that of the Mackinnon match.
Open to one team from each country – and there are usually at least 8 teams in this match – the Mackinnon is the premier 'home' long-range international, and has been competed for annually at Bisley since 1902. Because it is usually won or lost at 1000 yards, team captains take care to select a hard core of in-form, seasoned shooters, experienced 'gun platforms' who may have to wait several minutes between shots if the wind is playing up, maintaining total concentration, before their equally experienced Coaches call them to "go on"; after which an accurate shot is expected within just a few seconds.
Having said that, one or two new English caps are likely to be picked every year, with team captains being always mindful that today's 'new faces' are tomorrow's hardened match-winners!
The home advantage makes England the permanent favourites to win the Mackinnon, with the Coaches in particular being experts in assessing even tiny changes in the direction and strength of the Stickledown Range winds. Despite this accepted fact, both South Africa and Australia have won the match in this century, and there have also been several very tight contests with only a handful of points separating the top teams. In 2008 Scotland only lost out on a V-bull tie breaker.
The teams comprise 12 firers, plus a Main Coach and 3 Target Coaches, together with 3 Reserves, an Adjutant, and of course the Captain. He or she is selected by the English Twenty Club Council, from a short list prepared by the Captaincy Sub-Committee, with the criterion being: 'In recognition of success as captain or coach of, or as a shooter in, England teams'; he (or she, but so far there have only been two lady captains) is also 'likely to be a successful team leader'.
The conditions are simple: 1 sighter and 10 shots to count, at each of 900 and 1000 yards. The current record score was not achieved so simply! A huge total of 1188 out of 1200 –   that's an average score of 99 ex 100, per shooter – was made by England in 2014.
The Mackinnon is fired on the morning of Queen's Final day, alongside the Junior Mackinnon (teams of 4 shooters, from small countries, states or provinces outside the UK) and the Universities Long Range match. On a sunny day, with team flags fluttering and scoreboards making events easy to follow as the matches progress, this makes a splendid sight. Well worth a walk up 'over the hill' to enjoy the atmosphere, even if you haven't been selected; next year, maybe?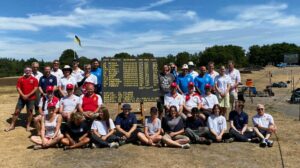 Past Winners of the Mackinnon 
England – 71
Scotland – 19
Canada – 15
Australia – 8
South Africa – 3
Ireland – 2
New Zealand – 2
Southern Rhodesia – 1
Further Information