Should I be interested in team shooting?
There are many benefits to involving yourself in team shooting. Firstly shooting with other people is enjoyable, of course in a match only one team can win but there is definite sense of achievement in working together to make a good score.
Secondly, shooting in a team allows you to break down your shooting into core components. No good at reading the wind at long range – get someone else to do it for you, post a great score and group and get noticed. Alternatively, nothing improves wind coaching like being sat in the chair and the pressure of getting your team mates into the bull! You can also work on your plotting and learn just by being in the company of experienced shots.
Thirdly, If you want to get noticed and picked for bigger teams like your chosen county, or even England you'll need to be demonstrating that you are good in a team situation and are a team player. Shooting in other team matches is the best way to get noticed and to prove your ability.
So how do I get into team shooting?
Approaching this can be easy, or surprisingly daunting depending on your position.
The first place to start should be shooting with a club, if you have come into shooting as a member of a club already then this should be fairly straightforward.
Clubs often hold informal and formal matches. In target rifle they also compete in the prestigious Astor Club Championships. This is a match shot between clubs within a county. The winner of the county heat goes on to shoot the national final at Bisley. Astor rules require 2 places to go to less experienced shots so selection may not be as tricky as you might think!
If you have come into shooting via the NRA probationary course or via cadets/schools you may not have met many other clubs. The idea of approaching a club out of the blue can seem a little scary but almost all clubs will welcome keen new members openly – and those that don't probably aren't right for you anyway. The NRA runs a meet the clubs event every year and has a comprehensive list here. Its worth thinking about what kind of shooting a club does, and which ranges they do it on relative to where you live before you sign up.
If you are having any problems feel free to contact the English Twenty Club and we'll do our best to link you up with a local club to get you going: membership@englishtwenty.org.uk
County Shooting
As you progress into team shooting and start to prove your ability you will want to consider shooting at an inter-county level. Counties shoot in four national inter-county competitions each year plus a host of other matches depending on your county and region. The NRA run two sets of matches, the Intercounties weekend in June of each year, plus the Intercounty Short and Intercounty Long on the second Tuesday of the Imperial meeting. From an English perspective however, the jewel in the crown is the King George V Challenge. This 8-man team match is shot in regional heats before the Final on First Thursday at the start of the Imperial.
How do I get into county shooting?
A List of current active English counties can be found here along with an email address. All Counties are slightly different, but all will have either a secretary or a district superintendant (or both!) who you can contact for more information.
The most important attribute a shooter needs to shoot at a county level is to be keen. If you can bring enthusiasm and eligibility to the table your county captain can do quite a lot! Eligibility for a county is more open than you might think, with some counties enjoying a wide pool of shooters to select from, and others less so – something worth thinking about. You are eligible for any county in which:
You currently live/vote
You have lived or voted in for 10 continuous years.
You were born in
Your parents were born in
Your Grandparents were born in.
As you can see, you could potentially be eligible for 9 counties! In all likelihood, this number will be much smaller. When nominating yourself for a county it is worth considering:
Is this geographically practical? – Do my chosen county shoot in matches where I can get to them?
Do my primary county have a team? Unfortunately not all counties have teams currently, or have merged with a neighbour.
Am I likely to get to shoot regularly for that county – some counties enjoy a large selection pool – often of very accomplished and talented shots – that is not to say that you shouldn't aim high and want to shoot for one of these counties – but it is statistically much harder to get picked. England Captains will want to see you being regularly nvolved in team matches so if you aren't managing this then you may wish to consider a different team – even if just in shorter term.
You can change you nominated county. You can do this at any point but you should bear in mind that if you have started for one county in a year you will likely be 'cup tied' for the remainder of that season so it is often best to change during the winter break.
Where next?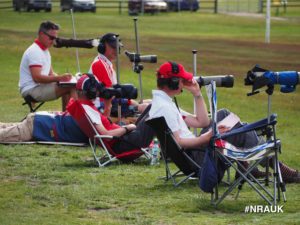 The natural next step on from county shooting is representing your country – England! This can seem like a big step but if you are shooting well enough and have developed some team experience you will hopefully feel ready. To help prepare you for this there are several opportunities that the English Twenty Club has for potential shooters. During the Year the XX Club has non-capped matches against the RAF and the UK armed forces. In addition, places in the team for the Lawrence match and the European long range match rely on shooters entering the Scottish open or applying to the match captain. These present a good platform to shoot under international style pressure and conditions and give you the chance to be seen by the senior match captains.
Ultimately, you want to be developing your team skills by shooting as often as possible for a team, at as high a level as possible. Some clubs and counties are more active than others so it is worth taking a look at their fixture list if you are undecided. You can only shoot for one county in a season, but you can join more than one club! The English Twenty has contact information for most clubs and all English counties so please contact us with any queries and we'll do our best to help you get started.
Further Information