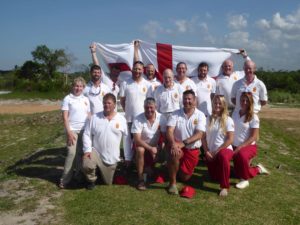 The England Rifle Team spent the autumn in sunnier climes, helping Guyana celebrate the 150th anniversary of their National Rifle Association, via a stop in Trinidad & Tobago. Adam Leech reports on a successful tour.
Wednesday 27th September 2017; a year's training, planning and preparation came together as the 2017 England Rifle Team assembled at Bisley. With baggage mostly under 23kgs an overnight stop at Gatwick was made, ready for Thursday's early start. The odd "Message 9" required at check-in, the plane was boarded and with wheels up it was official: we were on tour! Several hours later and with shooters and rifles through Trinidadian customs, attention turned to the hotel, dinner, an introduction to the custom of "sundowners" by the Captain, Dick Winney and, finally, bed.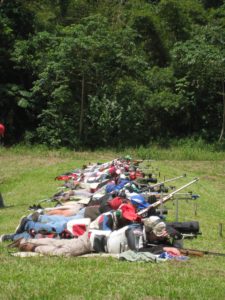 Friday gave the chance to see the island, buy supplies and visit the Tucker Valley range, establishing two main facts. First, heat and humidity on the range were intense. Second, the lush, tropical environment with steep hills climbing into the background was more like Jurassic Park than a rifle range! (A scan with binoculars confirmed silhouettes overhead were actually birds, not high-flying pterodactyls…)
Despite Friday's visit, nobody anticipated the effects of the heat when in full shooting kit and even early on Saturday, conditions were hot and tough. Nevertheless, Laura Kennedy top scored with a 50.4 at 300yds, before all fell back to 500 in the midday heat. The first detail finished, intense sunshine turned to intense tropical rain as detail 2 was underway. The locals, well used to this, called a halt in time to get kit and shooters under cover before the downpour. The detail finished off in the new Tucker Valley Swamp, Andy 'Turbo' Barnes on top with a 50.6. A cooler (though with fast-fading equatorial sunlight, darker) 600yds detail followed, Andy Daw maximising on more temperate conditions with a 75.9.
Results boded well for Sunday's team match, though now with a fishtailing wind for the coaches to contend with. Nevertheless, Laura again led the way on a 50.2 at 300x, while Trevor Bryan put in a 50.6 during a challenging 500yds. Lunch soon called during which time, thanks to a bit of "inter-constabulary networking" between the team's police officers and the local cops posted to the range, the team tried their hand at pistol shooting under the guidance of Trinidad Police's senior instructor, before 600yds and the opportunity to finish business beckoned. Conditions were no easier; the heat continued and the wind worsened. However, coaches Bruce "Palma 2019" Winney and (veteran of England's first ever tour) Chris Heales, though not keeping cool, kept their cool and, assisted by Nigel Stangroom's 50.3, saw England through to their first team victory on 1143.82 to Trinidad & Tobago's 1042.42. Prize-giving and dinner followed at the nearby clay shooters' clubhouse to the backdrop of a field of fireflies, followed by an impromptu team party and eviction from the hotel pool (due to time of night rather than behaviour!).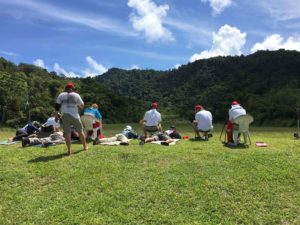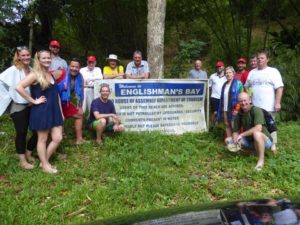 The weekend having reinforced that acclimatisation was required, the team made a Monday trip into the rainforest, visiting the incredible surroundings of the Asa Wright Nature Sanctuary with its hummingbirds, manakins, toucans, agoutis, termites (which are surprisingly delicious) and its Bisley-clubhouse-esque building. Cultural familiarisation also being important, the team accepted a local shooter's invitation to the Harvard Club and a performance from the Harvard Harps steel drum band. With a bit of instruction, most managed a competent attempt at scales, whilst a certain diarist's fumbled "Merrily We Roll Along" displayed musical skills at least on a par with a primary school recorder recital… A few days R&R on Tobago followed, the team diligently subjecting themselves to hot conditions with a spot of exploring, beach visiting (obviously including "Englishman's Bay"), paddle-boarding, scuba diving, sea fishing and waterfall climbing. The final was night seen off over a delicious and well-recommended goat curry, before an early start and getting back to business in Guyana.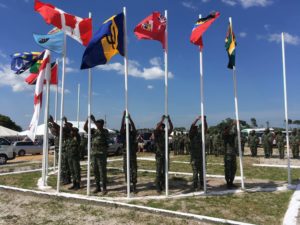 With Saturday spent in transit, Sunday was spent sighting in on the newly refurbished range. For the 150th anniversary the GNRA and Guyana Defence Force had done an outstanding job of refurbishing the facility, the number of targets now almost doubled to 12 per each of two butts and billiard-table firing points that would put any at Bisley to shame. Monday started with dedication of the range by a local preacher, with shooters pleased to hear his request that they be protected from adverse incidents whilst hoping that Range Standing Orders might achieve this without needing divine intervention… The opening shot fired by GNRA President, Brigadier Patrick West (a central V-bull, naturally), competition commenced. Nigel Stangroom led England's way at 300yds with 35.2, Charlie Staples and Henry Day making their mark at 500yds with 50.6 and 50.3. Nigel came back in the afternoon, a 50.4 placing him 3rd at 900x and 2nd overall for the day. Tuesday saw more strong England performances; Andy Daw's 35.5 brought victory at 500yds and Charlie recorded 48.5 at 600yds in particularly challenging winds. Hot, heavy afternoon conditions made long range tough, England's top score being Phil Chapman-Sheath's 50.1. By close of play, the top English shot going into the last day of the Grand Aggregate was Nigel in 5th place (261.20), with Charlie close behind on 259.24 and steady shooting from Henry placing him 12th (255.14).
Wednesday 11th brought a challenging start, 300yds not yielding the sea of 50s seen at Bisley. Andy Daw led the English on a 49.2 with Dick Winney following on 48.4. 600yds was similar and with 7 shots, scores in the low 30s were common. That said Phil and Chris delivered a brace of 35.3s, finishing first and third on count-back. After lunch, The Grand closed with its only 1000yd shoot. Always a challenge, the first detail additionally endured intense heat with second detail confounded by rain. Scores suffered, with low 40s typical and many dipping well below this. Charlie led for England on a 46.1, Martin following with 45.3. Despite a difficult day, an excellent result for England; two in the top 10, (Charlie's podium finish in 3rd and Martin 10th), seven more in the top 25 and all bar two in the top 40, making the second stage.
Even the locals considered Thursday to be "quite hot" and at 45 degrees, the reduced course of fire from 2+10 to 2+7's was welcomed, especially the team's medics who anticipated significant work from shooters expiring on the firing point! A total of 105.21 available, conditions ensured that none appeared. Andy Daw secured his place in the final by winning the second stage with 103.12, with Trevor Bryan (4th), Andrew Morley (9th), Turbo Barnes (10th), Nigel Stangroom (14th), Martin Liversage (15th) and Dick Winney (20th) joining him. Lunchtime rain delayed the final to mid, then late, afternoon when another downpour forced a rescheduling to Saturday. The up-side was more time to prepare for a tourists' reception for the local teams at a venue in Georgetown. The evening proved a success, with new friends sharing stories of tricky wind calls & unlucky shots. As the evening went on, some visited the upstairs nightclub to throw some serious shapes (aka. dad-dancing & the Funky Chicken), while others enjoyed a nightcap back at the hotel.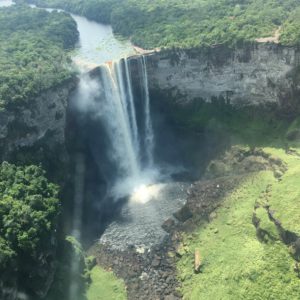 A day off on Friday 13th and what better to do on such a date than fly into the jungle in a light aircraft and stand on the edge of a 226m (247yd) high waterfall! The Kaieteur Falls, the world's largest single-drop waterfall by volume of water, are the centrepiece of the Kaieteur National Park and the most impressive geographical feature in a naturally beautiful country. As well as unwinding from the pressures of competition, the visit provided the opportunity for a number of new Facebook profile pictures, some more risky than others. A stop at the Ireng River on the Guyana-Brazil border then gave a chance to cool off in the water (definitely not involving swimming across the river and illegal, if brief, entry into Brazil).
Saturday 14th, England's next opportunity to prove themselves as a team with 8 firers and two coaches, led by the Captain and herded by Match Adjutant Andy Daw. Hot conditions over the week potentially contributed to ammunition issues so a less 'energetic' batch was issued, unexpectedly creating problems of its own. 900yds went well, Nigel returning a 49.4 and Laura close behind on 48.2. With the coaches sweating away (not just due to the heat) unforgiving Long Range ICFRA targets nipped away at scores, but England returned mid-to-high 40s, finishing on 368.20; 2nd place falling back and 3 points behind Guyana. From the start of 1000yds, something was clearly up. Scores peaked at mid-40s, with low 40s and 30s across the range. Severity varied from shooter to shooter, with England hit particularly hard. Later examination showed the ammunition was likely to have contributed, but not before England recorded only 668.25, 4th behind Ireland (702.28), Barbados (712.27) and Guyana (712.36). The afternoon saw the final of the individual championships and Nigel again led for England on 47.5 at 900yds, Trevor Bryan only a V behind amongst mostly mid to low 40s. Most scores dropped at 1000yds, but Nigel maintained form with a 46.1, taking 4th place and the top English spot. Trevor, like many, dipped into the upper 30's, finishing 9th whilst Andrew Morley, carrying 40.2, leapfrogged into 8th place with 47.2.
Sunday dawned and with it the International Short Range match, England's last opportunity to make their mark. With a confident Captain's briefing and an eloquent, motivational speech from the Vice-Captain, the team set about business. Ladies' pair of Charlie & Laura led the way on 50.7 & 49.7 respectively, while Match Adjutant Adam Leech busied himself with covert(ish) observations on the opposition. Main rivals were identified as local experts Guyana (4 points behind at 300yds) and Ireland, playing cards close to their chest with no published scores. At 500yds, Charlie again led the way on 50.5, with three 50.4s from Trevor, Martin and Nigel keeping England ahead of Guyana by a further point. The main threat was still Ireland, rumoured to be 25-off to England's 29. With one distance to go England needed a flawless 600yds performance and "flawless" was exactly what they didn't deliver. Winds were trickier and though readable, wind holds and the midday heat meant shooters began to suffer. That said, Phil Chapman-Sheath recorded 49.7, followed by 48.4 from Charlie and 48.3 from Nigel. Though Guyana were safely held off victory looked unlikely, but the sun beats down and the winds blow for all. With the last shots fired England had held it together, taking the match by two points on 1148.85 to Ireland's 1146.74. Guyana fished a close third on 1142.85, winning the concurrent match between the West Indies nations.
Evening dinner and prize-giving followed, the former ensuring shooters would fly home overweight and the latter that baggage would do likewise. England picked up a haul of medals, the International Short Range Trophy and several bottles of rum from the traditional exchange of local brews. Despite the impending 5am start, a few of the team accepted the post-dinner Irish offer to help them drink their spoils before finally calling it a day (or night, or morning).
Most are familiar with the Monday Blues, but these are only made worse when it marks the end of a fantastic tour and the return home to normality. By Tuesday morning the team were at Gatwick in temperatures closer to 45 degrees Fahrenheit than Celsius and not long after, back at Bisley for the final "Message 10".
For more information about the England Team to Guyana 2017, please visit our dedicated touring team website here. The England Rifle Team's next overseas adventure will be to Canada in 2019 ably led by Tom Rylands. For more information about how to apply for this tour see here.
Results
England v Trinidad & Tobago

INTERNATIONAL LONG RANGE MATCH
900 yds
1000 yds
Grand Agg
Guyana
Competitor
Pts
Vs
Pts
Vs
Pts
Vs
Mahendra Persaud
50
5
45
0
95
5
Leo Romalho
46
2
46
3
92
5
 
Roberto Tiwari
46
2
46
2
92
4
Sherwin Filicien
47
3
44
1
91
4
Ransford Goodluck
44
1
46
4
90
5
Dylan Fields
46
1
42
3
88
4
1st
Peter Persaud
47
3
37
1
84
4
Total
Lennox Braithwaite
45
2
35
3
80
5
712
36
371
19
341
17
Barbados
Competitor
Pts
Vs
Pts
Vs
Pts
Vs
Marlon King
47
3
46
2
93
5
Jason Wood
48
3
45
2
93
5
 
Lancelot Trotman
48
2
45
1
93
3
Shelly Hinds
46
1
45
2
91
3
Wade McLean
46
2
43
1
89
3
Richad Arthur
45
1
44
0
89
1
2nd
Jennifer Jordan
43
3
41
0
84
3
Total
Alfred Stuart
37
2
43
2
80
4
712
27
360
17
352
10
Ireland
Competitor
Pts
Vs
Pts
Vs
Pts
Vs
Kimberley Pope
49
1
44
2
93
3
Gary Alexander
47
1
44
1
91
2
 
Jack Alexander
45
2
45
3
90
5
David Calvert
48
5
41
1
89
6
David Lindsay
45
1
42
2
87
3
Chris Fitzpatrick
45
4
41
1
86
5
3rd
Lynn Johnson
40
1
43
2
83
3
Total
Guy Hart
47
0
35
1
82
1
701
28
366
15
335
13
England
Competitor
Pts
Vs
Pts
Vs
Pts
Vs
Laura Kennedy
48
2
44
1
92
3
Trevor Bryan
47
4
44
1
91
5
 
Phil Chapman-Sheath
46
2
45
0
91
2
Henry Day
45
3
40
2
85
5
Martin Liversage
46
2
36
1
82
3
Nigel Stangroom
49
4
31
0
80
4
4th
Andrew Morley
45
2
31
0
76
2
Total
Charlotte Staples
42
1
29
0
71
1
668
25
368
20
300
5
 
900 yds
1000 yds
Grand Agg
Antigua & Barbuda
Competitor
Pts
Vs
Pts
Vs
Pts
Vs
Maj. Alexander Gill
49
3
43
2
92
5
Adam Leech
47
1
41
1
88
2
Christopher Joseph
45
1
42
4
87
5
Anderson Perry
46
3
39
0
85
3
Thomas Greenaway
39
0
38
2
77
2
Desroy Maile
40
0
36
1
76
1
5th
Laurne Benjamin
39
1
36
0
75
1
Total
Rohin Dukhiram
36
1
30
2
66
3
646
22
341
10
305
12
Canada
Competitor
Pts
Vs
Pts
Vs
Pts
Vs
Jason Troupe
47
4
36
1
83
5
Tom Maynard
42
1
40
2
82
3
 
Gary Cassidy
47
4
33
1
80
5
Gian Garro
42
1
36
1
78
2
Ken Aldridge
45
3
32
1
77
4
Gareth Goodwin
41
2
33
1
74
3
6th
Paul Archer
42
0
27
0
69
0
Total
Mark Landreville
34
2
32
0
66
2
609
24
340
17
269
7
Trinidad & Tobago
Competitor
Pts
Vs
Pts
Vs
Pts
Vs
Justin Lall
47
2
40
1
87
3
Varma Rambarran
45
4
39
2
84
6
 
Ezekiel Joseph
42
3
40
1
82
4
Ubal Awai
42
3
38
4
80
7
Oscar Waldron
45
2
29
0
74
2
Dexter McKay
38
1
34
0
72
1
7th
Norris Gomez
40
3
26
0
66
3
Total
Mark Ackrill
16
0
38
2
54
2
599
28
INTERNATIONAL SHORT RANGE MATCH
300 yds
500 yds
600 yds
Grand Agg
England
Competitor
Pts
Vs
Pts
Vs
Pts
Vs
Pts
Vs
Charlie Staples
50
7
50
5
48
4
148
16
Nigel Stangroom
49
3
50
4
48
3
147
10
Laura Kennedy
49
7
48
4
47
3
144
14
Phil Chapman-Sheath
48
2
46
3
49
7
143
12
Henry Day
48
3
47
1
47
4
142
8
Martin Liversage
46
3
50
4
46
0
142
7
1st
Trevor Bryan
44
4
50
4
47
2
141
10
Total
Andy Daw
47
2
49
4
45
2
141
8
1148
85
 
 
381
31
390
29
377
25
 
 
Ireland
Competitor
Pts
Vs
Pts
Vs
Pts
Vs
Pts
Vs
David Calvert
48
3
50
4
49
2
147
9
Jack Alexander
50
4
50
3
47
2
147
9
David Lindsay
49
4
49
6
48
5
146
15
Guy Hart
48
1
49
3
47
2
144
6
Gary Alexander
48
3
50
5
45
2
143
10
Timberly Pope
48
4
46
2
48
5
142
11
2nd
Chris Fitzpatrick
49
5
48
4
45
2
142
11
Total
Lynne Johnson
47
0
46
1
42
2
135
3
1146
74
387
24
388
28
371
22
Guyana
Competitor
Pts
Vs
Pts
Vs
Pts
Vs
Pts
Vs
Lennox Braithwaite
49
5
49
7
50
7
148
19
Sherwin Filicien
48
3
50
6
46
1
144
10
Mahendra Persaud
48
4
49
7
46
2
143
13
Ransford Goodluck
48
2
50
2
45
1
143
5
Dylan Fields
47
3
49
4
46
3
142
10
Leo Romalho
45
3
47
4
49
4
141
11
3rd
Peter Persaud
48
2
47
4
46
5
141
11
Total
Roberto Tewari
44
2
48
2
48
2
140
6
1142
85
377
24
389
36
376
25
 
Canada
Competitor
Pts
Vs
Pts
Vs
Pts
Vs
Pts
Vs
Gary Cassidy
50
6
50
4
47
3
147
13
McDonald
45
2
49
2
46
3
140
7
Jason Troupe
47
4
46
3
45
3
138
10
Cian Garro
46
1
44
4
47
4
137
9
Goodwin
46
1
46
2
45
2
137
5
Audridge
45
4
46
3
45
2
136
9
4th
Landerville
44
0
46
2
44
0
134
2
Total
Jason Higgins
45
3
45
0
43
2
133
5
1102
60
 
368
21
372
20
362
19
 
300 yds
500 yds
600 yds
Grand Agg
Trinidad & Tobago
Competitor
Pts
Vs
Pts
Vs
Pts
Vs
Pts
Vs
Norris Gomez
46
3
50
4
45
4
141
11
Varma Rambarran
45
2
46
3
46
4
137
9
Mark Ackrill
43
2
46
3
46
2
135
7
Dexter McKay
44
2
47
3
44
2
135
7
Justin Lall
41
0
49
2
45
1
135
3
Oscar Waldron
43
0
45
2
42
2
130
4
5th
Ubal Awai
39
0
44
1
45
1
128
2
Total
Ezeliel Joseph
42
0
44
1
42
0
128
1
1069
44
 
 
343
9
371
19
355
16
 
 
 
Barbados
Competitor
Pts
Vs
Pts
Vs
Pts
Vs
Pts
Vs
Shelley Hinds
48
4
48
3
47
3
143
10
Marlon King
45
0
48
2
45
2
138
4
Jason Wood
44
3
47
1
46
2
137
6
Wade McLean
46
2
44
1
46
2
136
5
Jennier Jordan-Cousins
47
1
42
2
45
2
134
5
Alfred Stuart
46
2
45
2
41
2
132
6
6th
Hazley Benjamin
45
1
45
3
40
1
130
5
Total
Lancelot Trotman
38
0
38
0
40
1
116
1
1066
42
 
359
13
357
14
350
15
 
 
 
 
 
 
Antigua & Barbuda
Competitor
Pts
Vs
Pts
Vs
Pts
Vs
Pts
Vs
Andrew Morley
48
3
49
3
48
1
145
7
Sarah Curtis
47
2
47
2
46
3
140
7
Anderson Perry
46
3
45
4
46
1
137
8
Chrisotpher Joseph
42
1
46
0
45
4
133
5
Desroy Maile
42
3
45
1
44
1
131
5
Laurne Benjamin
45
1
44
0
42
2
131
3
7th
Thomas Greenaway
40
1
43
2
43
1
126
4
Total
Rohit Dukhiram
35
0
43
3
36
1
114
4
1057
43
345
14
362
15
350
14
Further Information
Mad Dogs and English(wo)men