Shooting the breeze
Martin Liversage reports from the English Twenty Spring Meeting where David Luckman triumphed despite stiff competition and diverse whether conditions from bright sunshine to heavy rain.
The late May bank holiday weekend saw the English Twenty Club Spring Meeting host a hundred competitors across the three days. Shooters enjoyed (or endured) a range of weather, from baking sunshine on Saturday to heavy rain on Sunday afternoon.
The meeting started on Saturday with The Association, a Queen's I course of fire. Jack Alexander coped best with the light but unpredictable winds to score the only clean shoot on the range, a 35.5 at 300, 500 and 600 yards giving him a 105.15.
The Second Stage was shot on Sunday in more manageable conditions, evidenced by eight shooters scoring a 50 at all three distances. Top of the pile was David Luckman with a 150.25, counting out John Pugsley with a 50.9 at 500 yards.
The Cortis followed on at 600 yards. Both details experienced rain at some point, but despite the weather 15 people managed to score 75, with John Pugsley counting out Chris Mitchell with 13 V-bulls. This gave John the Sunday Aggregate by a single V-bull from David Luckman. Chris Weeden was the only other shooter to go clean on the day.
The Short Range Aggregate also went to John, who counted out Chris Weeden, both dropping just one point for 329.51.
90 people stayed on to shoot long range on the Monday, where early morning calm helped 25 shooters score a maximum in The Long. David Luckman posted the top score of 75 with just one ordinary bull and 14 V-bulls, followed by a brace of shooters with 75.13s.
Moving back to 1,000 yards the conditions remained calm enough to allow high scoring from a number of competitors. Oliver Spencer scored the best of the 75s managing 13 V-bulls.
Jeremy Thompson, Oliver Spencer and David Luckman shot 150s during the morning, with David's 25 V-bulls taking the Monday Aggregate.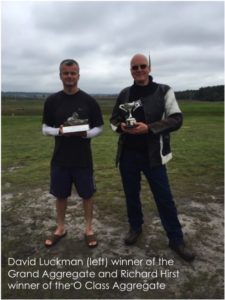 The Grand Aggregate was also won by David Luckman dropping just two points in total for a score of 478.77. John Pugsley and Jeremy Tuck picked up second and third on 476 points with 65 and 62 V-respectively.
Eight cadets from Gresham's shot the full meeting, giving them great preparation for the upcoming season. Winning the Donegal Badge for top cadet was Toby Little, shooting some very good scores to finish a creditable 60th overall.
Proceedings were concluded by a quick presentation on the range. Full results can be found at www.shootingresults.org
This post was first published in the Journal of the National Rifle Association and is reproduced here with kind permission of the NRA. The original article can be found in the summer 2017 journal here.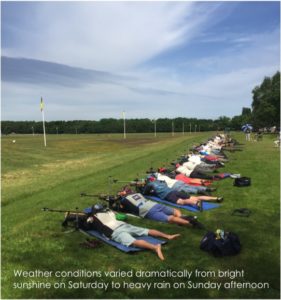 2017 Spring Meeting Report