Commonwealth Games England Rifle Shooting Announcement: Fullbore Target Rifle
David Luckman and Parag Patel have been selected to represent England in next year's Commonwealth Games to be held in Australia during April 2018. David and Parag first toured together as part of the 1994 UK Cadet Rifle Team and since that time they have shot for England and GB on 177 occasions!
Parag has represented England at the last three Commonwealth Games winning Gold in the Pairs and Silver in the Individual (Melbourne 2006), Gold in the Individual and Bronze in the Pairs (New Delhi 2010) and Gold in the Pairs and Bronze in the Individual (Glasgow 2014).
David, a comparative new comer to Commonwealth Games Shooting has 'only' competed in the Glasgow 2014 Games. Despite this being his first Games, he won Gold in both the Pairs and Individual events and now holds the current Games record for the Individual.
Joining David and Parag as the Coach and Manager is Jeremy Langley who has performed this role since Melbourne 2006. Jeremy is himself a seasoned International having shot and coached for England and GB on 84 occasions since 1988.
The shooting events are all being held at the Belmont Shooting Complex (Brisbane), approximately 45 minutes south of the main venues in Gold Coast. David, Parag and Jeremy have all competed at this venue previously as they were all part of the winning 2011 GB World Championship Team. More recently, David and Parag returned in October 2017 to compete in the Commonwealth Shooting Federation Championships where they won Gold in the Pairs match and David again won Gold in the Individual!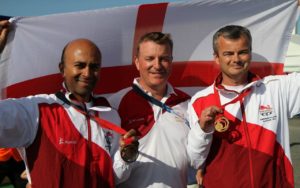 Glasgow 2014: Parag Patel, Jeremy Langley, David Luckman
When not touring with a rifle, David is an Actuary working for Clerical Medical in Bristol and Parag is an ENT Consultant working at Kingston & St George's Hospitals Medical School, London.
SaveSave