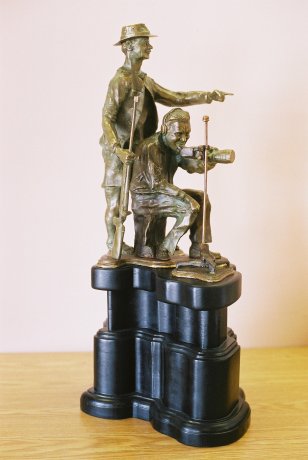 The Trophy
The trophy was presented in 2002 on the occasion of the first match. It was made possible by the fund-raising effort of Precision Shooting Magazine. The two figures depicted in the sculpture are the Canadian Jim Thompson, and Alan Warner (standing) of the United States. George Chase a member of the DCRA from New Brunswick was commissioned to design and make the trophy.
The Competition Background
First shot in 2002, the match was can only take place when an official US team is present and competing. The intent is to hold the match every two years. 2008 will be the fourth occasion of the match and the second time it has been shot in Raton.  
 
In 2002, USA, Canada, Great Britain and Germany competed for the match. On this occassion, Great Britain won the match from Canada with a margin of 48 points with USA a further 9 points behind them. John Pugsley made the top score of the day dropping only 2 points for a 298.30.
In 2004, the USA team beat Great Britain in a closely fought match where the teams were practically level going back to 1000 yards.
2006 saw Great Britain win back the trophy with a new record score dropping only 8 points between 8 firers. At 800m the team managed a perfect score of 600 and there were three scores of 300 in the team!
The Match Conditions
A team of 8 shooters, two sub-coaches, a main coach, an adjutant, a captain and 2 reserves. Each firer shoots 2 sighters and 15 shots to count at 300, 600, 900 and 1000 yards (or 300, 600 yards and 800 and 900 metres as appropriate to the venue).
Previous Winners
2002 Great Britain
2004 USA
2006 Great Britain